(Click on the image to enlarge)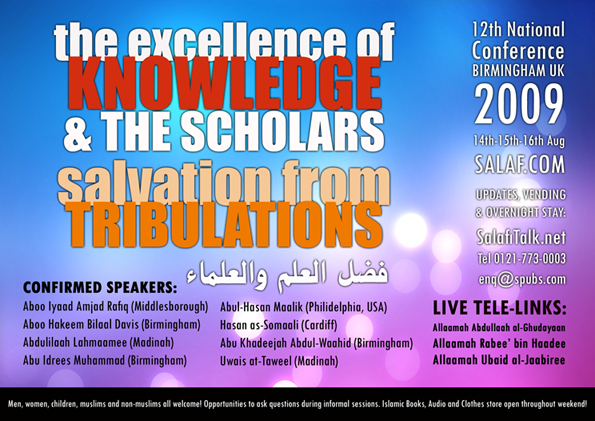 UPDATE 23/07/09:
Latest Update:
Shaikh Muhammad al-Anjaree. Shaikh Muhammad ibn Haadee and Shaikh Ahmad as-Subay'ee will not be attending this conference - There is however a possibility that Shaikh Falaah Ismaa'eel will be attending.

Tele-links:
Allaamah Abdullaah al-Ghudayaan, Allaamah Rabee' bin Hadee, Allaamah Ubaid al-Jaabiree


Confirmed Speakers:
Abu Hakeem Bilal davis, Abu Khadeejah Abdul Waahid, Abdulilaah Lahmaamee, Abu Iyaad Amjad Rafiq, Abu Idrees Muhammad, Abul-Hasan Malik

,
Abu Abdillah Hasan as-Somaali
, Uwais at-Taweel.

For those traveling and requiring accomodation we have listed a few of the hotels in the near to the Conference.

(The list of hotels has been compiled on the basis of their locality and it is the responsibility of those booking to verify their facilities and suitibility)


Keep an eye on this post as it will updated as more conference details emerge..
.
Conference Organised by Salafi Publications
Tel:
0121 773 0073
Address:
Masjid as-Salafi (Al-Maktabah As-Salafiyyah), Wright Street, Small Heath, Birmingham B10
E-mail:
enq@spubs.com
Web:
http://www.salaf.com